Mercedes to launch A-Class revamp on December 8th 2015
As a part of the 15 models launch within the year 2015, here is the luxurious brand Mercedes back in action rolling out the revamped version of the A Class luxurious hatchback in the domestic market of the country
As a part of the 15 models launch within the year 2015, here is the luxurious brand Mercedes back in action rolling out the revamped version of the A Class luxurious hatchback in the domestic market of the country. The launch is scheduled to take place on the 8th of December, 2015 in Mumbai, being the 15th and the last product of the year. Mercedes-Benz India is presenting a new make-over model of their A-Class luxury hatchback in the country. The launch would happen on the 8th December, 2015 in the city of lights, Mumbai Talking about the make-over, the car has received minor upgrades whereas the car's external body is concerned, while offering a similar and unchanged look, offering the hatch a revitalized appearance. The car would rival against the luxurious models like the Volvo V40 Cross Country along with the BMW 1 Series already tossed in the native market of the country.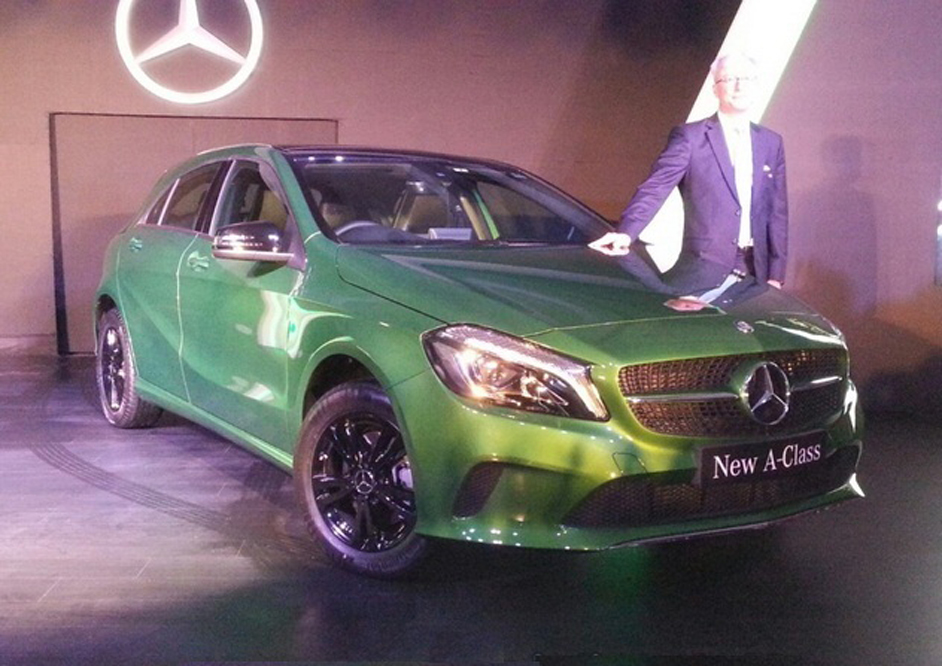 Exterior Updates:
An insistent bumper at the fore along with a new layout of the head light panel.
The tail lamps have also been redesigned and now sport a cool look.
The ORVMs have now darkened, offering a sportier appeal to the all new Merc.
The car now rides on a new 5-spoke alloy wheels.
Inside the cabin: Although the makers have kept the things quite in place, sporting a new 8.0-inch touch-screen infotainment system carrying Apple Carplay along with the Mirror link software for Smartphone integration. The car would also acquire the inside colors to make your own pick along with a new design of the instrument cluster.
Engine: Beneath its hood, A-Class carries a probability to house a 1,595cc petrol unit along with a 2,143cc diesel mill that is already performing well on the existing variant. Both of the units are paired to a 7-speed dual clutch gearbox that is already present in the present A & B-Class