Benelli team in Bengaluru is all content and celebrating on the occasion of delivering the 100th unit been handed over to its owner. In order to mark and celebrate the occasion, they arranged a short ride from outlet in Bengaluru in Richmond Circle over to Kolar. And yet another similar celebration was rejoiced in Pune as well, DSK Benelli that also witnessed the 100th motorbike been handed over to its buyer, during the last week.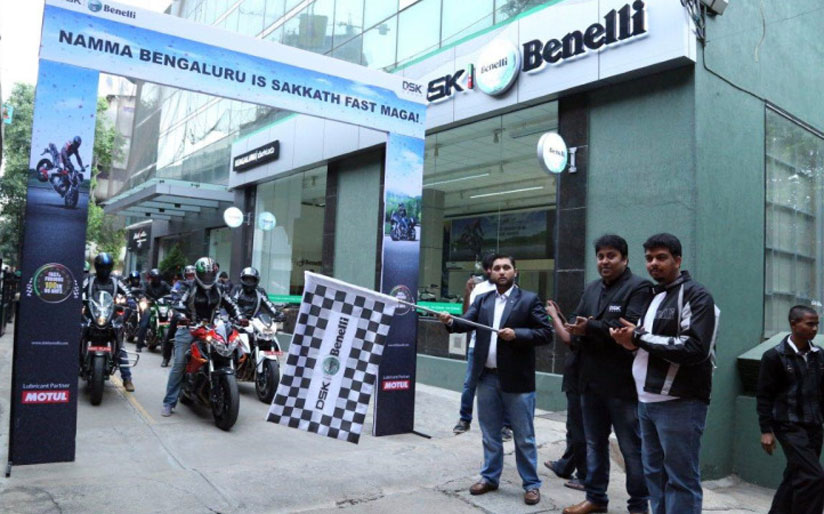 The buyers in Bengaluru booked and purchased a total of 100 bikes in just 3 months, whereas the bike lover in Pune took nearly 4 months in order to purchase a 100 of its units.The keys of the bikes were handed over with much thanks and success, sparkling in the eyes of the Chairman of DSK Motowheels, Mr. Shirish Kulkarni, during the event that was organized in order to celebrate the occasion.Quoting on the event, Kulkarni, said, that Pune has been evolved into a popular city, especially great for the Bike lovers, and ever since the DSK Benelli Superbikes outlet has been floated here, the brand has been receiving a very good and positive response from the people inhabited in the city.
The remarkable occasion of selling 100 bikes in merely 4 months is indeed a great achievement and also displays the value of the brand and the customer support DSK has been getting.He further added, that indeed the Bike market is India is on a revolution too and the market is expanding especially towards the superbikes segment.
DSK Motowheels at present has 5 of the Benelli bike in its portfolio, for the domestic market of our country, name:
TNT 300
TNT 600i
TNT 600 GT
TNT 899
TNT 1130
All the bikes from the brand are locally accumulated at the brand's facility here in Wai, Maharashtra.