Tata Motors has launched unveiled Safari Storme Exploring Edition at price range 10 Lakh to 14 Lakh in India. This powerful beast with rugged accessories and stunning gadgets is a true explorer that runs free, refusing to show mercy to any terrain.
Tata Safari Storme interior design is majestic lifestyle, wood and chrome creates a unique visual essence. The wood-accentuated dashboard and an anti-lock braking system with electronic brakeforce distribution ensure precise braking, stylised door trims, all add to the beast's maturity and uber-sophistication.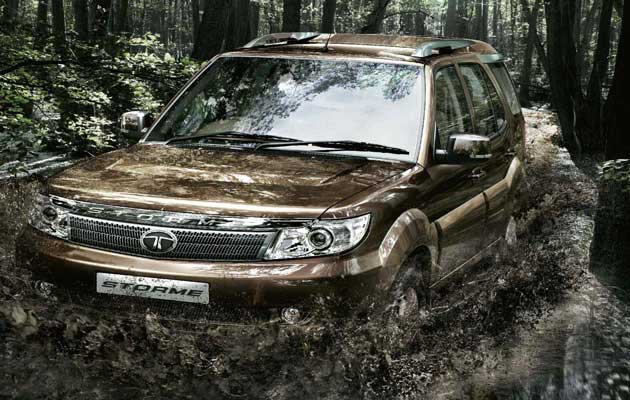 New Safari Storme is using latest tread of technology like in case of a mishap; their interior switch automatically cuts off fuel supply and unlocks all the doors with switching the hazard light on. Bluetooth and aux-in interface make sure that you stay connected always. The dual AC with integrated roof-mounted ducts makes the chase all the more thrilling.
Technical Specifications
Engine

2.2L VariCOR

Fuel

Diesel

Type

2.2L 16 Valve DOHC VTT VariCOR (Variable Turbine Technology)
(32 Bit Electronically Controlled) (Direct Engine Common Rail)

Capacity (cc)

2179

Max. Output (PS) @ rpm

140 @ 4000

Max. Torque (NM) @ rpm

320 @ 1700-2700

High Intertia Flywheel

Yes

Gearbox

G-76 (Mark II)
Price Details:
| | | |
| --- | --- | --- |
| Model | 4x2 | 4x4 |
| Ghaziabazd | | |
| Safari STORME EX BS 4 | Rs. 1119017 | N.A. |
| Safari STORME VX BS4 | Rs. 1281884 | Rs. 1414203 |
| Safari STORME LX BS 4 | Rs. 1029576 | N.A. |
| Noida | | |
| Safari STORME EX BS 4 | Rs. 1119017 | N.A. |
| Safari STORME VX BS4 | Rs. 1281884 | Rs. 1414203 |
| Safari STORME LX BS 4 | Rs. 1029576 | N.A. |
| Lucknow | | |
| Safari STORME EX BS 4 | Rs. 1127460 | N.A. |
| Safari STORME VX BS4 | Rs. 1289556 | Rs. 1421875 |
| Safari STORME LX BS 4 | Rs. 1029457 | N.A. |
| Varanasi | | |
| Safari STORME EX BS 4 | Rs. 1127562 | N.A. |
| Safari STORME VX BS4 | Rs. 1289658 | Rs. 1421977 |
| Safari STORME LX BS 4 | Rs. 1029559 | N.A. |
| New Delhi | | |
| Safari STORME EX BS 4 | Rs. 1119038 | N.A. |
| Safari STORME VX BS4 | Rs. 1281631 | Rs. 1411487 |
| Safari STORME LX BS 4 | Rs. 1029363 | N.A. |
| Gurgaon | | |
| Safari STORME EX BS 4 | Rs. 1119003 | N.A. |
| Safari STORME VX BS4 | Rs. 1281642 | Rs. 1412373 |
| Safari STORME LX BS 4 | Rs. 1029427 | N.A. |