Fiat Aegea snapped at the production Unit, launch likely in November 2015
The car manufacturer from Italy has another miraculous product in its portfolio. The brand recently unveiled its Fiat Aegea, the mid-size sedan as a concept at the Istanbul Motor Show, 2015
The car manufacturer from Italy has another miraculous product in its portfolio. The brand recently unveiled its Fiat Aegea, the mid-size sedan as a concept at the Istanbul Motor Show, 2015. While the official launch of the car is scheduled around the festive season in the month of November 2015. This is the production model that has been captured while the car was been showcased in Turkey.
Overview of the upcoming Fiat Aegea: Once on roads, the car is all set to replace the present running Fiat Linea. Talking about its dimensions, the Fiat Aegea stands 4.5m by length, 1.78m by width and 1.48m tall, carrying a large wheel base of 2.64m. This upcoming fresh mid size sedan is adorned by a large and prominent grille, edged by nicely pleated head lights. We could observe a lot of insistent curves and folds wrapped around the new car, along with an included spoiler enhancing the look at the boot.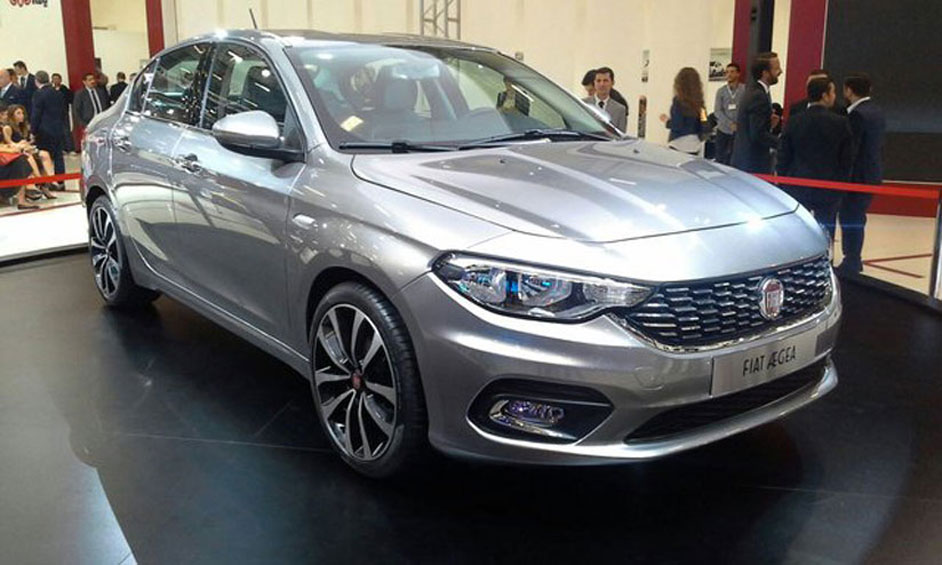 Engine: The Fiat Aegea sedan would be offered in two distinct models, namely with two of the petrol units along with two MultiJet II diesel units. Talking of the power numbers, the outputs could vary between 95bhp and 120bhp. Gear options would be most likely like a six-speed manual and automatic gearbox.
Inside the car: The inner cabin speaks about being stylish and contemporary at the same time. It sports a steering wheel, infotainment system along with the AC vents borrowed from the Fiat 500 range. The upcoming Fiat Aegea acquires a 5-inch touchscreen infotainment system carrying a Bluetooth, USB and AUX compatibility. To add on, the car obtains a satellite navigation system along with a rear parking. The Aegea sedan would be developed at the company's TOFAS plant based in Turkey, and from there on it would be exported to the various global markets. What time it would reach India, is a little tough to quote at the moment, but so keep a tab on none other than autocarbazar in order to get the latest input on the upcoming Fiat Aegea.