BMW to book a stand for its 7 series at the Auto Expo 2016
The never before performance, looks, interiors and what not, are some of eth claims by the brand BMW
The never before performance, looks, interiors and what not, are some of eth claims by the brand BMW! While to explore and get closer to the beauty machine, we get a chance as the folks have announce to launch the BMW 7 series at the 2016 Auto Show.The 2016 BMW 7 Series would be rolled out at the approaching Auto Expo is scheduled for the month of February 2016. While the reports and claims are all over by the manufacturer from Bavaria, that is leading model would carry a number of updates along with a luxurious touch, marking this as the most sorted and premium executive sedan in its segment. While the car is all dressed up, sparkling in the green room to mark its global premiere at the Frankfurt Motor Show 2015 that is scheduled this month and it would be followed by a launch in Europe.
Overview: The car has been dubbed as G11; this latest 7 series appears like an upgrade of the existing variant rather than a gen-next car. The traditional kidney grille steals the show, as it looks quite attractive, carrying vertical slates that make its presence quite evident. While considering the size of the car, it appears wider than the existing one and looks aggressive carrying the edgier head lights that compliment the overall layout. The sides of the car, along with eth look at the rear, both have been given a transformation and the appearance is bolder than ever before.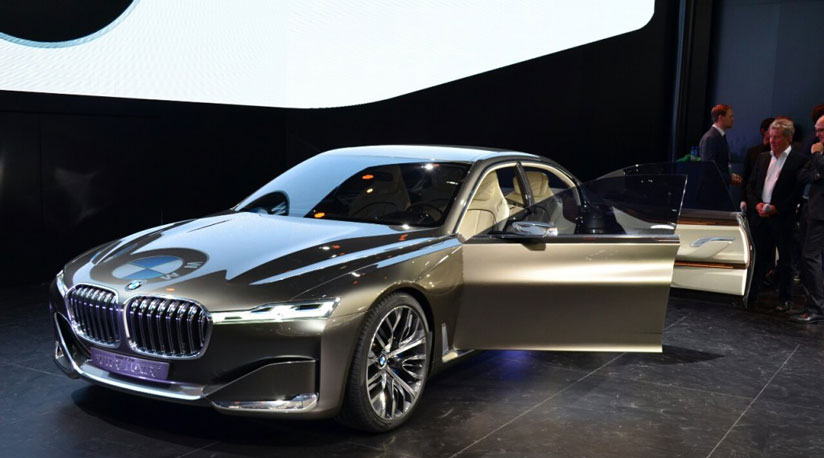 Interior: Inside the all new 2016 BMW 7 Series, things look much similar to the most of the latest BMW cars in the last few years. However the features and the specification inside look amazingly large, if we talk about any of the previous models that have been out in the previous years. At the front we see there is much attention been paid, in most of the cars, but we see a lot of time and technology been gifted to the rear as well. We see exclusive self-sufficient outlined seats, along with a personalized entertainment system with an LCD display at the tray.
Engine: The 2016 BMW 7 Series would be developed, carrying an option of three engines ? two of them are petrol and one is a diesel. One would get to see a long-wheelbase version of the new BMW 7 Series ? the 740Li, 750Li and the 730Ld respectively. BMW would assemble the 730Ld in our country through the CKD route, the petrol 740Li and 750Li would both be brought in as CBU.Once launched in eth market, the all-new 2016 BMW 7 Series would face off and contest with the Mercedes-Benz S-Class, Audi A8 and the Jaguar XJ